In recent weeks, various analysts such as Gartner, Forrester, and IDC have examined cybersecurity trends and predicted what the future would hold. A majority of these trends overlap, so we want to echo those that relate to data-centric security in this article.
Table of Contents:
1. Growing need for compliance with privacy and cybersecurity regulations

By the end of 2023, modern privacy laws are expected to cover 75% of the world's population. Since the publication in 2018 of EU-GDPR, new regulations have emerged in different countries intending to protect the personal data that organizations collect from employees, customers, partners, etc.
Security operations are expected to be standardized based on EU-GDPR and make adjustments for specific regulations. Privacy management systems will need to be automated to ensure compliance and minimize efforts. According to IDC, by 2026, 85% of organizations whose data management limits their business strategies will ask CIOs to lead and prioritize investments in compliance and data governance.
As discussed in this article, it is expected that government sanctions and judicial decisions will set a precedent to determine companies to take measures to minimize cybersecurity risks. This will make the level of security to achieve regulatory compliance closer to high-security standards. CIOs and  CFOs will work together to limit the economic impact of data and network breaches exposing customer and partner data.
Since the beginning of the pandemic, organizations have seen more and more data distributed so that it is now not restricted to the network perimeter. The boom in collaboration and remote work implies that the risk of personal and internal data of organizations being in any location has increased.
Regulations such as GDPR do not prescribe concrete solutions, but they propose encryption and access control as measures with the potential to minimize data leaks (Article 32 EU-GDPR). In addition, if the lost data was encrypted and not accessible, we can avoid notifications (Articles 33,  34 EU-GDPR).
All this means that data-centric security systems that include encryption and access control mechanisms, such as IRM, can help us protect the organization from losses derived from regulations and mitigate possible data leaks. The protection travels with the documents, and it is possible to limit actions to preserve data safety in any location. In addition, automated data protection on file servers and document management systems in the cloud or on-premise (SharePoint, Office 365, etc.) can help us automate compliance management.

2. Extending protection beyond the traditional security perimeter

In 2021, Gartner anticipated the need to have a "Cybersecurity Mesh" that allows secure access to any asset (e.g., data, file, device, etc.) by anyone and anywhere regardless of where people and assets are located.
It is expected that by 2024 organizations will adopt a cybersecurity mesh architecture that allows reducing the financial impact of security incidents by an average of 90%. Currently, technologies are supported in different places, and flexible solutions are required to enable information to be secured beyond the traditional perimeter of the network, improving the security of remote work.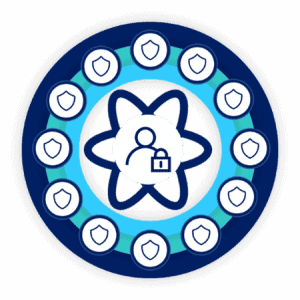 Data-centric cybersecurity systems allow the concept of cybersecurity mesh to be extended to data. With the "Zero-Trust" security model, organizations can control access to the content of files anywhere, inside or outside the network's security perimeter. It does not matter if the user works remotely and accessing Excel files containing sensitive data. Data-centric cybersecurity allows the organization to have control of this file, limiting who accesses it, monitoring access, and revoking access to the file remotely if necessary.

3. Enhance security in supply chains and collaboration with third parties

Based on Forrester's predictions for 2022, 60% of security incidents will occur in relationships with third parties. With cyberattacks targeting small suppliers, attacks on the supply chain will multiply and impact companies that do not invest in the triad of risk management: People, Processes, and Technology. According to Security Magazine, supply chains will be examined to minimize security breaches stemming from inappropriate security operations by suppliers.
Gartner predicts that, by 2025, 60% of organizations will use cybersecurity risk as a "primary determinant" when choosing who to do business with. Any cybersecurity operation is only as secure as its weakest link, impacting the supply chain. Because of this, companies are assessing resilience and exposure to cybersecurity to decide who they will partner with and maintain a high standard of security throughout the supply chain.
Governments and industries will do more along these lines, but threats will also increase in response to this enhanced security posture. Sophisticated and well-resourced customers will be able to apply more controls. On the other hand, providers can modify and adjust their service policies to make it clear that there are security gaps they cannot cover.
On the other hand, one in 5 firms will include policies related to cyber insurance in contracts with third parties in the supply chain, causing the partner to assume the risk of an intruder jumping from the partner's network to the organization's environment.
However, the imposition of specific controls and clauses on third-party suppliers is only in the hands of sophisticated companies. It should be possible to use technologies that allow data security also when it is on third-party networks or equipment. This is what data-centric security technologies are striving to achieve: to enable data to be protected, under control, and audited when it is in the hands of our suppliers within the supply chain.

4. New changes in the Management and Culture of organizations to shield themselves in cybersecurity

Gartner indicates that by 2025, 40% of management teams will have a dedicated cybersecurity committee overseen by a qualified management team member. Cybersecurity risks have acquired significant relevance in recent years and are now deemed critical by CEOs and organization management teams. As stated above, non-compliance with regulations or security breaches can directly impact the company's bottom line.
In addition, and to minimize these risks, it is also foreseen that by 2025 70% of CEOs will impose a culture of organizational resilience to survive cyber threats. The digital transformation has expanded the range of risks in cybersecurity, and the organization must be aware of it.
A culture of information protection must be extended in the organization so that cybersecurity does not fall solely into the responsibilities of the CISO office. All employees within the organization should be aware of what needs to be done to protect sensitive data.
Data-centric security technologies such as data classification or IRM help extend this culture of protection so that users know the level of sensitivity of the information they manage. The organization requires more or less strict protection measures depending on each type of data.

SealPath's Approach to data security

SealPath's focus has always been to protect data regardless of its location and therefore:
It helps comply with data protection regulations, applying encryption, access control, audit, and revocation controls.
It facilitates the deployment of cybersecurity mesh architectures and security models such as Zero-Trust to extend data control and security beyond the network security perimeter.
It improves security in the supply chain, making the organization's sensitive data safe when it's on a supplier's network or equipment, as protection travels with the data.
With an implementation process based on experience and led by experienced professionals, it helps to extend a culture of security in the organization by informing users that they are using protected information, the loss of which could drive dramatic consequences.
The bottom line

The world of data-centric security is changing with the times, and companies need to adapt to these changes to be able to withstand potential threats in the future. By following a few simple steps, like applying a consistent data-centric security model as recommended by security experts worldwide, the chances are that they will make it through this process intact.
SealPath aims to be a trusted data security partner for companies of all sizes. We enable companies to protect and control their documents wherever they are: In their PC, in their corporate network, on a partner's network, in the cloud, etc. Even once the document has been sent or shared and is beyond the control of the IT department.
Do you want to know more about the value that SealPath can bring to your organization in all these points? Contact us, and we will show you how.