Learn the best ways to protect SolidWorks designs from unauthorized access and meet the challenges of the changing industry environment related to cyberthreats.
Table of contents:
Dassault Systèmes SolidWorks
SolidWorks is a 3D solid parametric modeling software developed by Dassault Systèmes. One notable aspect of SolidWorks' supplementary capabilities includes its ability to emulate the physical properties of an object. In this context, SolidWorks employs sophisticated simulation technologies to assess the performance and behavior of mechanical products. This crucial feature enables businesses to save valuable time and resources in their product development process.
SolidWorks platform provides instinctive solutions tailored to every phase of the design process. Its comprehensive suite of tools is devised to make the overall lifecycle of product development more effective and productive. The platform's inherent simplicity, a key characteristic of its value proposition, has been instrumental in driving the success of numerous clients.
Many companies in the manufacturing and engineering environment use SolidWorks in their processes, and in their designs, they include highly sensitive and confidential information, namely intellectual property.
The challenge of protecting SolidWorks CAD designs
Organizations that manage these types of CAD designs need to share them throughout the supply chain, with other internal users, subcontractors, external partners, customers, collaborators etc. It is difficult to maintain security over sketches if they must pass through several hands in the design and manufacturing process, which increases the risk of intellectual property and trade secret leakage.
The basis of the new Smart Industry involves deep factory automation, digitization of processes and new communication channels. This, together with new ways of working, increases the possibility of targeted attacks and information that was previously kept only within the security "perimeter" of the network, has to be shared with different systems and external actors.
A large part of information leaks in organizations originate from external suppliers. Through an attack directed at a partner, or through a security incident at a third party, our information can be left unprotected, even though we have put measures in place within our organization. In the manufacturing/industry sector, the main actor behind an information leak is in 93% of the cases an attacker coming from abroad. The main motivation is espionage in 94% of cases. In fact, the most common type of data, 91%, stolen in this sector is Intellectual Property and industrial secrets.
And once the intellectual property has been stolen, competitors can take advantage of the leaked information. And this, in turn, can cause long-term damage to a company's competitive advantage. This translates into substantial losses in turnover, loss of market share and loss of reputation. Companies working in this sector with SolidWorks require the ability to protect and control their 3D SolidWorks designs. Auditing access, controlling what they can and cannot do and being able to revoke access to designs when they stop working with a certain partner or when an employee leaves the organization.
3 ways for securing and Lock SolidWorks 3D CAD files
In terms of safeguarding SolidWorks 3D CAD designs, either internally or through external parties, various alternatives exist. These include implementing password security, utilizing DXF formatting or exporting to PDF, as well as the application of Information Rights Management solutions.
1. Traditional Password Protection
As clearly indicated by its name, password protection entails incorporating a secret cryptographic key to your SW CAD files, ensuring that only the preapproved users can access the content of the file. In the event of a security compromise where the malicious cyber threat actor gets access to the file, they will still be faced with the hurdle of cracking the correct secret key for unveiling the content of the file.
Implementing passwords provides a basic method of ensuring protection of designs, irrespective of the adopted file format or utilized software for the creation of the CAD files. You can set a password by:
Password protection by SolidWorks: You can set a password for a SolidWorks file by going to File > Save As > Options. In the Save As Options dialog box, select the Security tab and enter a password.
Use a .zip/.rar tool: Compress a SLDPRT file with a password.
While passwords serve as a competent means of safeguarding files from unwarranted access, their protective capacities become limited once the file has been accessed. Upon opening the file in question, the recipient possesses complete control over its contents, allowing them to potentially utilize designs and drawings without proper consent.
In certain instances, they may opt to modify the design by incorporating unique aspects, subsequently publishing the end product under their own designation. Consequently, password reliance does not fully eradicate the notion of theft, especially in light of prevalent data demonstrating the frequency of employee-driven intellectual property theft. They will also have access to other parts of the design such as other pieces that make up the overall design that you would not want to reveal.
2. Using other formats
An alternative method to prevent unauthorized access of CAD drawings entails their conversion to eDrawings or 3D PDF formats. These are superior formats that enable the receiver to unlock the file's content using a password, without granting them the power to alter or adjust the content, only to visualize them.
eDrawing of your Assembly: eDrawings is another way to share your design with third parties. You are not giving 3d model but eDrawings can be used for visualization. Go to File > Save As > eDrawings (*.easm) in save as type. Also eDrawings can be protected with password. To add a password click File > Password, in the dialog box, select Password Required to Open Document, then type a password and save.
Save as 3D PDF: It's possible for you to store an assembly in PDF format. Additionally, you have the capability of generating a 3D PDF that enables you to share a 3D model that an individual can view, hide/show, and rotate, but is unable to measure or export as solid geometry. Start from the 'File' menu, then navigate to 'Save As…', and find Adobe Portable Document Format (*.pdf) in the 'Save as Type'. It's critical to ensure that the 'Save as 3D PDF' option is checked. These can be used to share your design without actually sharing your 3d model.
Should team members or employees require to analyze, mark or annotate the design, they can conveniently utilize a complimentary software named Design Review. This software becomes necessary only when additional measures are imperative. However, for simply observing the content, a web browser will be adequate.
Furthermore, as we mentioned at the beginning of this article, in a sector where collaboration with different internal and external agents is essential these are not useful techniques for a secure collaboration. In many cases access is needed to edit, modify or perform any action on the design, so sharing it in a visualization format is not an option.
3. Using Enterprise Digital Rights Management Solutions
An exceptionally efficient method for safeguarding your SolidWorks CAD files involves utilizing third-party security software solutions, like Enterprise Digital Rights Management (EDRM). Employing dependable security software is crucial for ensuring tranquility and top-notch protection. This leads us to the introduction of SealPath.
Introducing SealPath Smart CAD Protection for SolidWorks
SealPath is a firm specializing in cybersecurity, offering advanced solutions to data protection and security issues encountered by firms. The technology employed by SealPath gifts you with full authority over sensitive documents and files, and enables you to observe the happenings around your property, even subsequent to sharing them with an external party.
SealPath delivers safeguards that escort your document across both your network and the recipients' networks, whether located in the cloud or on a PC. You possess the ability to govern access, timing, and level of actions that users can have on the file. With SealPath, delicate documents are secured (encrypted utilizing digital rights management) when at rest, during transmission, and while in use.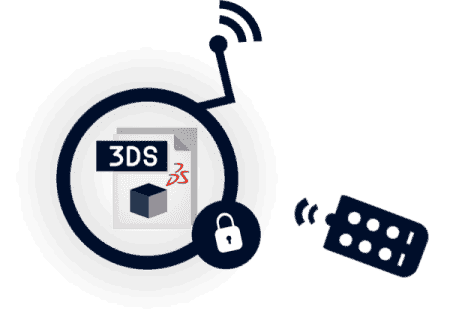 For example, do you desire for the recipient of your file to only possess reading rights, devoid of the capability to edit, duplicate, or even produce a printout of your work? Or do you wish for them to own the document, but be incapable of opening it until a certain date, despite possessing the password? SealPath can facilitate the attainment of all these needs with ease.
Furthermore, SealPath empowers you to rescind file access remotely and even expunge them from the recipients' repository, should collaboration with the possessor cease or if you prefer the work not being in their possession. In the event that an unauthorized entity endeavors to obtain access to your file, SealPath allows for real-time monitoring of their details.
Outstanding features
Undoubtedly, SealPath is the safest way to protect and lock SW CAD drawings from being leaked or accessed, and it offers tons of outstanding features, including:
Control Permissions: Manage the actions of your customers or employees with just a few clicks.
Seamless integration with SolidWorks: Access to designs without obstacles or intermediate agents.
Effortless Sharing: Experience unparalleled ease when sharing encrypted files. No recipient registration is required for sharing files and controlling their usage.
Comprehensive Access Control: View the activities of other users, such as document opening, protection tampering, or unauthorized access attempts to the protected documentation.
Automated Protection: When files are moved or copied to a designated folder, protection is automatically activated. Monitor users who extract files from protected folders based on their usage.
Adaptive Watermarks: In case of a screenshot attempt, your document attaches the email address of the individual, their IP address, and the date/time.
Corporate System Integration: Log in to SealPath with your domain credentials, even if your LDAP differs from Microsoft Active Directory.
Extensive Format & Platform Support: Protection is applicable to a vast array of CAD file formats.
How can SealPath help to protect 3D CAD designs in SolidWorks?
SealPath protection for SolidWorks, through its SealPath Security Sandbox technology, adds persistent protection to CAD designs no matter how they are shared within or outside the organization. The platform allows companies and engineering or design personnel to establish usage controls over designs (e.g., view only, edit, print, copy and paste, etc.), and monitor file usage.
Even though they are shared, the company protecting them will retain ownership of these designs so that if there is a potential risk of data leakage they can remotely delete these files or see who has attempted to access them without authorization. When you no longer wish to collaborate with these designs, the owner of the design can destroy it with a simple "click" of the mouse.
Initially, SealPath obstructs unauthorized users from accessing your CAD drawings, ensuring the safety of your files. By authentication methods secure your CAD files, prohibiting unintended individuals from accessing your documents' content. As a result, even if cybercriminals manage to obtain your CAD files, they are unable to access the information inside.
Moreover, SealPath assists in limiting the actions selectable by your intended recipients. This feature holds significance, as you might require a partner or client to solely view particulars of your work, while preventing copying, printing, or manipulation of data.
How does it work?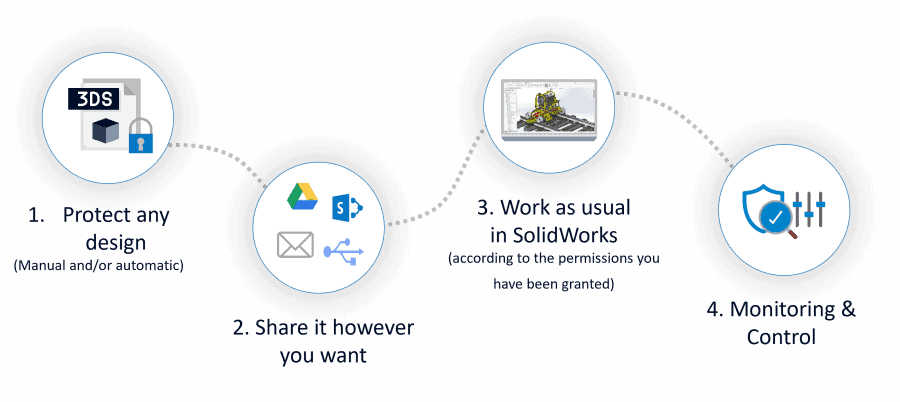 Users protect designs through the SealPath client by indicating the users, groups or domains with access to the information and their permissions (e.g. view only, edit, print, etc.). They can add expiration dates, and other controls such as offline access capability. Protection can be manual or automatic, integrated with different information repositories, just by storing or copying the designs in the repository they will be protected with the selected protection policy.
Share the design protected with SealPath by any means you want, whether by email, cloud, usb or any other means.
Once shared internally or with external partners, users can access the designs protected with SealPath, without external viewers. The user must first install the SealPath lite client with SealPath Security Sandbox technology, which will validate the user, control the user's permissions and only allow the user to perform the actions permitted by the information owner.
The owner of the designs, will be able to see who is accessing, when, if someone tries to access without permissions, ultimately having full control of their files regardless of where they are.
User permissions are displayed in the floating bar above the design. In case the user tries to perform an action that is not allowed he/she will receive a notification on screen indicating that the action is not allowed.
What Solidworks Versions and Formats is SealPath compatible with?
Supported Versions: 2022 & 2023. 64 bits.
Client Platform: Windows 7 to Windows 11.
Formats: .slddrw .sldprt .sldasm .sldxml .dwg
Available Permissions: View, Edit, Export (STEP, PDF, Save As, etc.), Copy & Paste, Print (Plot, Batch Plot, 3D Print), Add Users.
Additional support: Microsoft Azure Purview Information Protection (old AIP Azure Information Protection).
Subassemblies support: SealPath is the only security solution for SolidWorks that supports designs with references to other parts contained in other files.
Importing files support: It allows importing files with external extensions from sources such as CATIA, AutoCAD, Pro / Engineer, etc.
Exporting files support: It allows exporting files to other formats such as .DWF, .STEP, .JT, .SEP, etc.
Benefit Summary
SealPath for SolidWorks provides the following benefits in summary:
Prevent potential data leakage by controlling who can access designs and with what permissions.
Ability to monitor access and have complete visibility throughout the supply chain and when collaborating with partners or global engineering teams.
Ability to revoke access to information by preventing users from accessing it once they have left the organization or stopped collaborating with a partner.
Ease of use and management, allowing users to work with native CAD tools, without viewers, and with protection automation capabilities.
SealPath is capable of protecting designs from major CAD tools such as AutoCAD, Solid Edge and many more. Discover all CAD tools here.
Contact our team of information security experts here for advice on the best measures.