WHAT IS SIEMENS SOLID EDGE?
Solid Edge is a 3D CAD, parametric feature and synchronous technology solid modeling software. It provides solid modeling, assembly modelling and 2D orthographic view functionality for engineers, designers and designers. It allows designs to be made in two different ways: By traditional modeling like other CAD systems, and modeling with synchronous technology.
Solid Edge was originally developed by Integraph until its acquisition by Siemens. The geometric modeling kernel, Parasolid, is widely used as a geometric engine in other tools such as SolidWorks, IronCAD, etc.
SealPath allows the protection of intellectual property and confidential content stored or included in Solid Edge 3D designs. As with other CAD tools such as AutoDesk AutoCAD or AutoDesk Inventor, SealPath allows designs to be protected and under control wherever they are.
HOW CAN SEALPATH HELP PROTECT INFORMATION IN SOLID EDGE?
SSealPath, through its SealPath Security Sandbox technology, allows applying digital rights protection to file formats and applications such as Solid Edge that are not initially intended for this. This allows the following advantages:
You can control who accesses the file, when and with what permissions. It is possible to allow one user to only view a Solid Edge file and another to view it, modify it, extract content, etc. SealPath allows you to limit the level of collaboration on CAD files with sensitive information.
SealPath performs a complete access audit on the Solid Edge protected files, leaving a trace of when a user opens it, their permissions, etc. It also monitors whether a user has been blocked when trying to access without permissions or when, having all the permissions, a user has decided to remove protection from a design.
In the event that you want to stop collaborating with someone, SealPath can revoke access to Solid Edge file even if the file has been distributed and is on the partner's computers or network.
This security integrates seamlessly with native Siemens Solid Edge applications, so users don't have to use cumbersome viewers to access sensitive information. Users work directly with Siemens software, but can only do the actions that the owner of the design has allowed.
WHAT COLLABORATION USE CASES CAN WE FIND IN CAD DESIGN ENVIRONMENTS?
SealPath allows the protection of designs and sensitive information in multiple use cases of engineering, manufacturing, etc. companies. Some examples may be:
COLLABORATION IN THE SUPPLY CHAIN
CAD drawings and sensitive information are shared with suppliers who collaborate in design, testing, production, tests, etc. These providers may in turn work with others.
SealPath allows traceability and control of who accesses sensitive information, avoiding possible leaks in the process.
COLLABORATION WITH PARTNERS IN ALLIANCES
An organization can collaborate with multiple companies to design a new product in an alliance or joint venture. Intellectual property and designs are transferred and, although they are controlled at the contractual level, do not have adequate security controls, and there is a risk of sensitive information leaking. It is critical to ensure that only the right people access to the drawings, and that the company can monitor access or prevent access to information when the project ends.
SealPath can help by guaranteeing that only people with permissions can access the files, and only as long as we want.
CONTROL OF INFORMATION IN GLOBAL ENGINEERING TEAMS
When a new design project is developed, it must be accessed by people from different areas or business units. The information is stored in different repositories, copied to local computers, etc. The more people access it and the more distributed the information, the greater the possibility that there may be leaks or loss of sensitive information.
SealPath allows you to control who can access and if people on the team leave the organization, it allows you to ensure that they do not have access to the CAD designs even if they have been copied to removable drives, etc.
REGULATORY COMPLIANCE, AUDITS, EXPORT CONTROLS
Sometimes the company may be exposed to regulatory controls of a specific client to keep their intellectual property safe. The violation of technical data export regulations or passing information control audits by clients should be avoided.
SealPath provides visibility into the protected data and guarantees that it is accessed by certain people in compliance with export regulations and controls.
ACCESS BY SUPPORT OR FIELD TECHNICIANS
In the deployment of equipment, system or machinery, field and support technicians must access very sensitive information that must be controlled. This is usually done by engineers working for suppliers who can leave these companies and move on to the competition.
SealPath can guarantee that people access when they need it, even on sites without an internet connection, but control that they only access what they need and access can be revoked if they stop working on the project.
HOW DOES SEALPATH PROTECTION WORK FOR SOLID EDGE?
The operation of IRM protection for Solid Edge is similar to the protection for other CAD formats as described in this article for AutoDesk Inventor.
Protection can be manual or automatic, integrated with different information repositories. The user applies a protection to the file indicating who accesses, with what permissions, until when, etc. Once designs are shared, users can access with Siemens Solid Edge, without external viewers. Previously, the user must install the SealPath thin client with SealPath Security Sandbox technology, which will validate the user, control their permissions and only allow them to perform the actions allowed by the owner of the information. For example, you will not be able to export content, copy it, or print it.

User permissions are displayed in a floating bar above the design. In the event that the user tries to perform an action that is not allowed, they will receive a notification on the screen indicating that the action is not allowed.
Additionally, the owner of the designs will be able to see who accesses, when, if someone tries to access without permissions, etc., or block access to files in real time in case they want to stop collaborating with a user.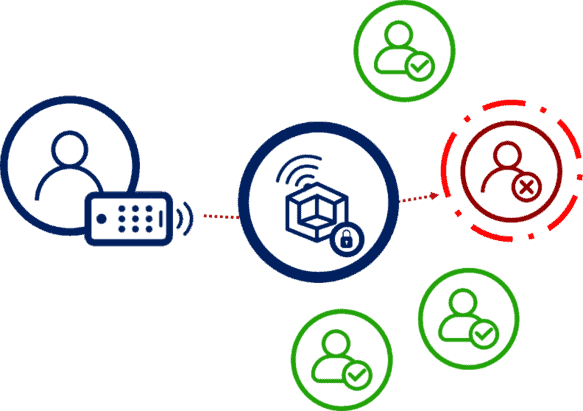 WHAT VERSIONS AND FORMATS OF SOLID EDGE IS SEALPATH COMPATIBLE WITH?
Supported Versions: 2019, 2020. 64 bits.
Platform/OS: Windows 7 a Windows 10.
Formats: .ASM, .DFT, .PAR, .PSM
Available Permissions: View, Edit, Export (STEP, DWG, Save As, etc.), Copy and Paste, Print (Plot, Batch Plot, 3D Print), Add Users.
SealPath allows working with designs that include references to other parts or files. It is possible to import files with external extensions from sources such as CATIA, SolidWorks, Pro / Engineer, etc. and export files to other formats such as .DWF, .STEP, .JT, .SEP, etc.
You want to know more? Contact us at contact@sealpath.com or click here.
References: