Microsoft Teams and Slack allow more real-time interaction, facilitating efficiency when teleworking. Sensitive company documents are found more and more distributed in the personal or remote devices of workers, without being protected or taking into account the risks involved.
Adaptation to Efficient and Secure Teleworking

The confinement to which we are being subjected during this situation of Covid-19, has led organizations to the need to organize quickly so that their teams can work remotely in the most efficient way possible. However, more and more of us believe that this forced increase in teleworking will not disappear dramatically once the confinement situation is over, it's here to stay.
As indicated in Built in the pandemic has forced millions of workers to perform their tasks from home, but in the months and years ahead this remote working situation will prevail. Also, as indicated in this article published by EY, telecommuting is an opportunity for companies to change the way they work and reap the benefits in the medium and long term: less office space, less travel, less business travel, shorter breaks, and more concentration and focus for employees.
In the previous blog post, we talked about the risks of teleworking, focusing on a very specific use case: How to protect data in the cloud through storage tools (Box, OneDrive, G-Drive, etc.) to keep it safe from data loss and keep it under control.
In this article, we will show how we can protect and control our sensitive documentation with SealPath in collaborative work tools such as Slack or Microsoft Teams.

Collaborative Work Tools: Teams and Slack


These tools allow for more real-time interaction than other collaboration tools we have always used such as email. It is possible to chat with the team from anywhere, join instant video conferences, call in an integrated way from the application, collaborate with documents, organize work channels by teams or by a particular subject, etc.
There are even tools such as Skype, WebEx or Whatsapp that allow you to have conferences, chat, etc., but these applications are more focused on the business, on teams and allow a more integrated experience.
These tools have increased their use during the pandemic exponentially as indicated by Slack's CEO. The same can be said of Microsoft Teams.
At the same time, the increase in collaboration on these platforms has meant that more and more sensitive company information is being distributed on workers' personal or remote devices. How can we guarantee efficient remote work with these platforms, while keeping control of the most confidential and sensitive information practical and simple?

Secure Sharing of documents with SealPath in Slack

Among the collaboration functionalities that Slack allows us, one of the most used is the sharing of documentation in a collaboration channel. For example, the financial or legal department of a company has created a channel in Slack to collaborate and share information. Conversations, chats, etc. are held and documents are also shared between people in the team or department through this created channel.
This document usually ends up being downloaded to the computers of the different people on the team. The following article shows how to share a document in Slack, just upload it to the channel or if we store it in platforms like Box, OneDrive, etc. put the link to it. This other article offers more detail.
Once the document is shared, the following options are available with Slack: Download, Share, Save and Create External Link.


If the document we are sharing has sensitive data, it will end up being downloaded to the receiving user's computer, which can then share it with others or even create an external link accessible from the outside so that anyone can download it. How can I make sure that my most sensitive documents remain encrypted and under control even if they have been downloaded?
With SealPath:
A person from the legal or financial team, for the case at hand, protects the document with a policy where only people from this department or team can have access.
Once protected, you share it with your computer in Slack, and users will access it, download it, etc. using their usual tools such as Word, Adobe, etc.
The owner of the document will see who is accessing, if someone tries to access without permission, and can even revoke access to the document if they decide that a certain person should no longer access it.
On the other hand, the company's administrator will also have control over this documentation and audit its access from a central management console. He will not be able to access the document, but he will be able to know what is happening with that sensitive documentation.
On the other hand, if what we have exchanged with Slack is a link to a document in Box, OneDrive, G-Suite, with SealPath Secure Browser, users will be able to access the documents from the browser without having to download them.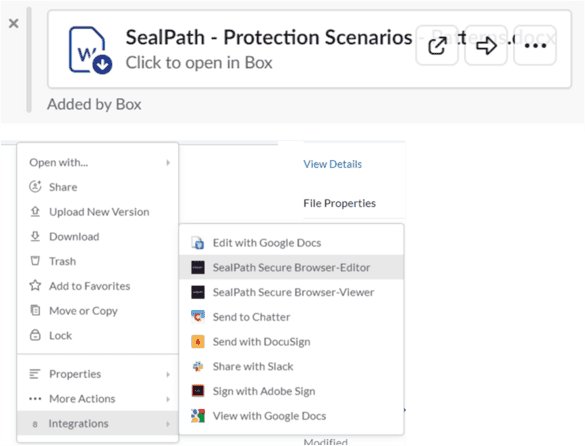 As you can see, SealPath makes it very easy to ensure that you can continue to maintain control of sensitive information in Slack.
In the following Webinar you can see SealPath in action sharing protected documentation through Slack.

Protect the Files you exchange with Microsoft Teams

Microsoft Teams is a collaboration tool similar to Slack, but included in the Office 365 suite. The functionalities are similar and you can chat, create video conferences or instant calls, share documentation, etc.
Teams is very closely linked to Microsoft SharePoint, because when a "Team" is created within Microsoft Teams, a "Team Site" is automatically created in SharePoint online. In fact, Teams is not a place to store documents. They are actually stored in SharePoint.
In addition, for each channel in Teams, a folder is automatically created within a SharePoint document library. In the "Files" tab of the channel, you can see the documents stored in that document library.
On the other hand, you can create a "Team" from an existing SharePoint site. In fact, it is recommended to organize SharePoint correctly before creating a Teams site.
How can SealPath help to keep the most sensitive documentation protected both within Teams and when downloaded?
If a document is confidential or sensitive, protect it before sharing it by right-clicking on it in Teams, dragging it to SealPath, etc.
Upload it and share it in the Team with the rest of the people in your team.
Once uploaded in Teams it will be saved protected in the corresponding SharePoint site or document library. We can also access it from the "Files" tab in Teams.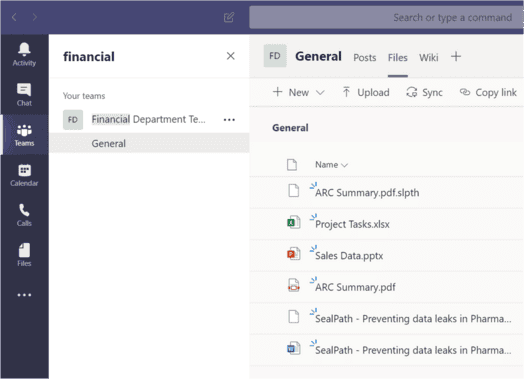 Users will be able to open the documents once downloaded with their usual tools: Office, Adobe, etc.
As we indicated above for Slack, the owner of the document will be able to see the activity on the document: Who opened it, if it has reached someone who is trying to open it without permission, etc.
Finally, as the document is protected, it is now under the control of the organization and can be fully audited for access.
With Microsoft Teams, protection can be made even easier through its tight integration with Sharepoint: With SealPath for File Servers, it is possible to automate protection on file and SharePoint servers so that when users leave documents (via Teams, OneDrive, uploads, etc.) in a SharePoint document library, they are automatically protected.
Therefore, users will not need to protect their documents before uploading them. The administrator indicates the document libraries to be protected and any uploaded documents will be automatically protected by SealPath.
In addition, users will be able to open documents without downloading the document via SealPath Secure Browser as seen above with Box, but with OneDrive, SharePoint online.


With SealPath, we can easily keep track of the documentation shared through Microsoft Teams and stored in SharePoint.


In the following Webinar you can see SealPath in action protecting sensitive documentation through Microsoft Teams.
In addition to protection with these tools, SealPath enables email and attachment protection with Outlook in a way that is easy for the end user. You can know more about this here.
Do you want us to help you protect your information distributed through these types of tools? Don't hesitate to contact us so we can help you.