ADVANTAGES OF WORKING WITH WEB APPLICATIONS

Although we still work on our teams with many agents and local applications, we have become accustomed in recent years to working with web applications that do not require software installed on our computers. Some of the advantages of working with webapps instead of installed software are:
Cross-platform compatibility: It doesn't matter if we work with a Windows, Mac, Linux or mobile platform such as iOS or Android. A web-based, agentless application allows me to work with it from any type of platform.
Immediate updates: No need to download or install the latest version. The agentless software is always up to date.
Easy management and maintenance: It is not necessary to distribute installers in the computers of the organization, which simplifies the management of the application.
Security: Not having to install software on computers makes it easier to use in any type of network where downloads or installations are limited.
ACCESS TO PROTECTED DOCUMENTS FROM THE BROWSER WITH SEALPATH SECURE BROWSER

Several months ago SealPath released SealPath Secure Browser which allows access to protected documents without installing agents and on any platform requiring only the browser. SealPath Secure Browser is integrated into the SealPath user portal and with a simple drag&drop operation on the browser the user can access the protected documents with the accesses assigned to them.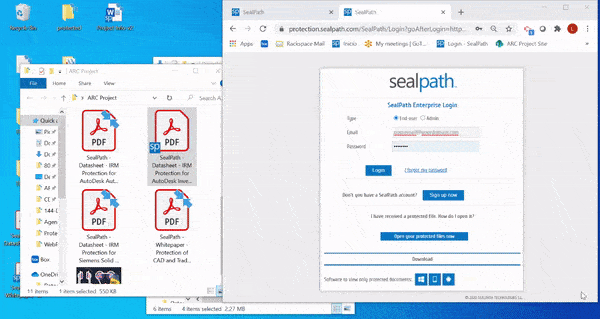 SealPath Secure Browser also integrates with tools such as SharePoint On-Premise, SharePoint Online/Office 365, OneDrive, Box, or G-Suite so that users can access protected documents directly from these document repositories without having to download the documents.

Permissions are limited, and if the user can only view and edit the file, he can modify the documents but if he tries to extract text outside the browser he will see that the content copied to the outside is the string "SealPath Protected". In addition, watermarks are included on documents displayed in the browser such as the identity of the user who opens it, the IP address, timestamp or the name of the policy with which the file was protected.
SealPath Secure Browser offers users the following advantages:
100% agentless secure management of the most sensitive information: Users can rely on SealPath to securely store, share, and modify files without requiring any software downloads..
Collaborate easily and securely with third parties: Users can collaborate on Word, Excel, PowerPoint, PDFs, etc. documents in a secure web environment while maintaining the company's confidentiality policies and security of file information on any type of device.
Facilitate the adoption of secure documents by users: Barriers or resistance to change that may arise in users when managing secure information are eliminated. Very easy to use, does not impact on normal workflows: If the user prefers access in the browser can do so, and also editing locally with Office if it is more comfortable to work with the document on the desktop.

THE NEW SEALPATH WEB PROTECTOR

Now SealPath goes a step further and announces the upcoming release of an agentless version of its protection client. Through the new SealPath Web Protector, users can protect files on their computers without the need for any installation.
The operation is very similar to SealPath Desktop:
The user can view the protection policies that have been created or shared by the organization.
You can create new protection policies, modify existing ones in case you own them, delete them, etc.
You can protect documents through existing policies by simply dragging a document into the application.

Not only does it allow you to protect documents or create protection policies, but the user has access to all the tracking information of a document in the same way as with SealPath Desktop:
Users can view the documents they have protected, either through SealPath Desktop or through SealPath Web Protector.
You can see the list of accesses by third parties to your protected documents.
You can see the notices or alerts about protected documents: If someone has tried to access a protected document without permission, who has unprotected documents, etc.
It is possible to see the access details for a given document: who accessed it, when, permissions, alerts on the document, etc.

It also has functionalities present in SealPath Desktop such as the possibility of unprotecting documents, protecting single-use documents without an associated protection policy, revoking access to documents individually or by policy, etc.

This application will not only be available for desktop platforms such as Windows, Mac OSX or Linux, but we will be able to protect documents, manage protection policies, access the tracking of protected documents also from our iOS and Android mobile devices.

With SealPath Web Protector and SealPath Secure Browser, SealPath enables 100% agentless protection and access to protected documents from your computer browser or mobile device. By combining automatic protection in Cloud information repositories such as SharePoint, Box, or G-Suite, organizations have the ability to automatically protect in Cloud applications, cross-platform and agentless access to protected documents, and agentless protection on any platform and device.
Both SealPath Secure Browser and SealPath Web Protector are available for both SaaS and On-Premise versions. That is, if the organization prefers to keep its protection systems On-Premise for reasons of regulatory compliance, security/privacy, etc. it can also work with these two applications installed in its server infrastructure. Users will be able to enjoy them from their browsers, without installations, but knowing that the entire protection and document access system is under the control of the organization.
As you can see, at SealPath we continue to innovate, always thinking about offering users the easiest and most comfortable way to protect and manage their most sensitive documents. Soon you will learn about new innovations and integrations of these applications with third party software and other SealPath applications.
Stay tuned for new improvements and features that we will be launching in the coming weeks and announcing in new posts!