SealPath named Winner of the Global InfoSec Award during RSA Conference 2022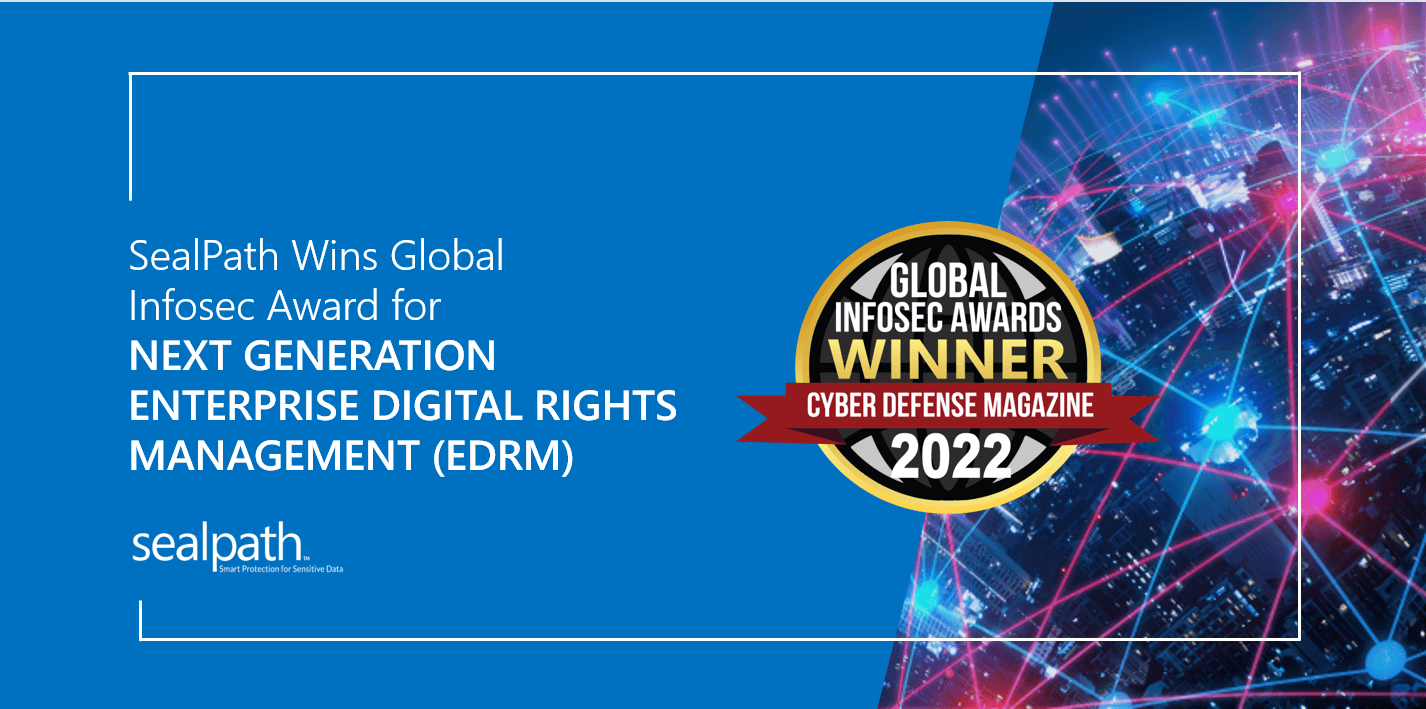 SealPath wins "Next Generation Enterprise Digital Rights Management (EDRM)" in 10th Annual Global InfoSec Awards at RSA Conference 2022.
SAN FRANCISCO (BUSINESSWIRE) JUNE 6, 2022 – SealPath is proud to announce we have won the following award from Cyber Defense Magazine (CDM), the industry's leading electronic information security magazine:
Next Generation Enterprise Digital Rights Management (EDRM)
"We're glad to receive this award, one of the most prestigious cybersecurity awards in the world, from Cyber Defense Magazine. There were a lot of great cybersecurity solutions nominees and the judges who are leading infosec experts from around the globe, have chosen our solution as one of the best, we couldn't be more pleased," said Luis Ángel del Valle, CEO of SealPath.
"We scoured the globe looking for cybersecurity innovators that could make a huge difference and potentially help turn the tide against the exponential growth in cyber crime. SealPath is absolutely worthy of this award and consideration for deployment in your environment," said Yan Ross, Editor of Cyber Defense Magazine.
We're thrilled to be a member on the group of winners, together with the most innovative cyber security solutions providers.
About SealPath
SealPath is a European leader in Zero-Trust Data-Centric Security and Enterprise Digital Rights Management, working with major companies in more than 25 countries. SealPath has been helping organisations across multiple business verticals, such as Manufacturing, Oil & Gas, Retail, Finance, Healthcare, and Public Administrations, protect their data for over a decade. SealPath's client portfolio includes organisations within the Fortune 500 index and Eurostoxx 50. SealPath makes it easy to avoid costly mistakes, lower the risk of data leaks, ensure security for confidential information and protect data assets.
About CDM InfoSec Awards
This is Cyber Defense Magazine's tenth year of honoring InfoSec innovators from around the Globe. Our submission requirements are for any startup, early stage, later stage, or public companies in the INFORMATION SECURITY (INFOSEC) space who believe they have a unique and compelling value proposition for their product or service.
About the Judging
The judges are CISSP, FMDHS, CEH, certified security professionals who voted based on their independent review of the company submitted materials on the website of each submission including but not limited to data sheets, white papers, product literature and other market variables. CDM has a flexible philosophy to find more innovative players with new and unique technologies, than the one with the most customers or money in the bank. CDM is always asking "What's Next?" so they are looking for best of breed, next generation InfoSec solutions.
About Cyber Defense Magazine
Cyber Defense Magazine is the premier source of cyber security news and information for InfoSec professions in business and government. They are managed and published by and for ethical, honest, passionate information security professionals. Their mission is to share cutting-edge knowledge, real-world stories and awards on the best ideas, products and services in the information technology industry. They deliver electronic magazines every month, and special editions exclusively for the RSA Conferences.