Powerful administration controls
With a simple, logical Web-based dashboard for administrators
Flexible, convenient Web-based administration
The administrators is provided with various controls to easily manage the company's protected documentation and to audit use of the same at any time. You can transfer ownership of the documents, block users, de-protect any of the organisation's files leaving a record on an admin audit log, etc.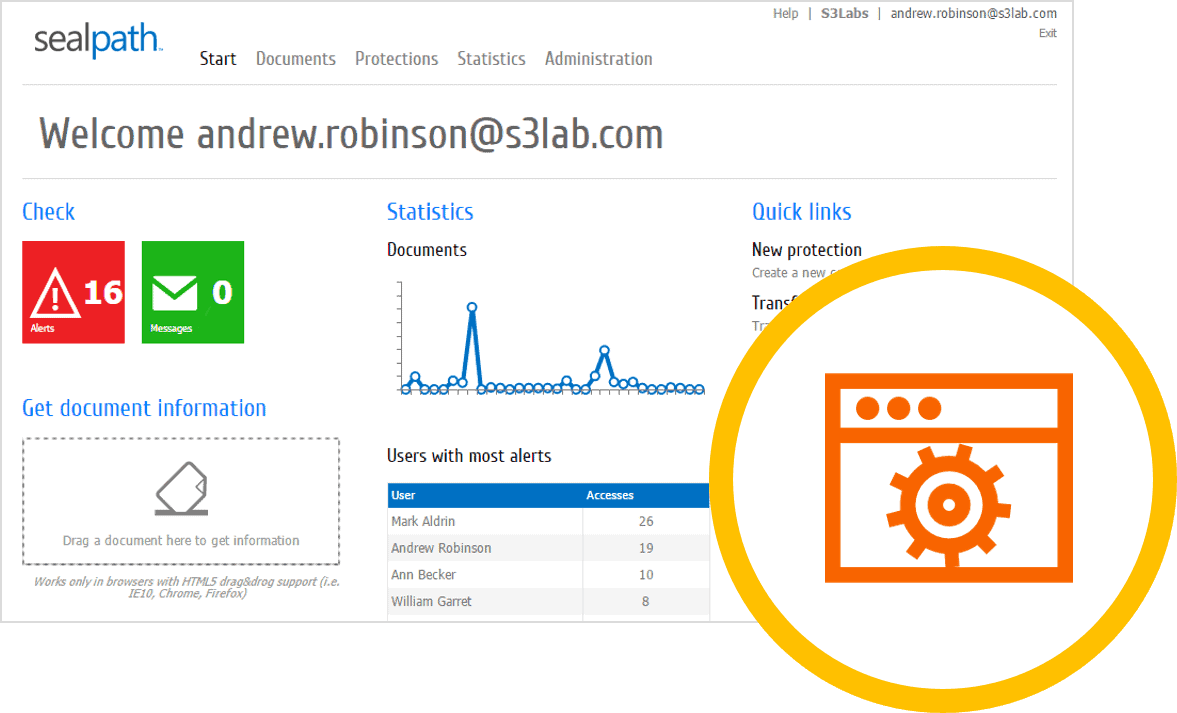 Transferring document ownership
The administrator can transfer ownership of the protected documents among users. This can be done for all the documents or by protection policy. Furthermore, the protection for AD groups means that when a user changes from one AD group to another he/she loses access rights to the documents of the old group and acquires access to the protected documents of the new group without having to make changes in SealPath.
Super-user mode to de-protect documents
You can easily recover control of a document even if an internal user protected it and later left the company. A super-user mode enabled by the administrator allows him/her to protect any file, leaving a record in the audit log of the administrator's actions: when the mode was enabled, who did it and what files have been de-protected.
Control of internal and external users
The administrator can manage internal and external users from the control panel. He/she can see those registered in an Active Directory tree, those provided automatically after being included in a policy, external users invited into the system, etc.
Audits and reports
The administrator is provided with detailed access information on the documents and can quickly see who has accessed a particular file and which documents a user has accessed. He/she can also display reports on alerts related to document access, Top10 graphics, etc. that enable a quick overview of what is happening to the company's protected documentation at any time.
Policy management
The administrator can create protection policies and assign them to users or groups of users, departments, etc. The users can then employ these policies to protect documents with the desired protection level without having to create them themselves. The administrator can also change the user's policies, leaving a detailed record of the actions performed.