Protect and share patient data with confidence
Simple, flexible protection that travels with the date regardless of where it is
Avoid risks with patient data
Healthcare institutions and pharmaceutical companies collect and process vast quantities of patient data. These data are not only stored in databases but are also included in documents, PDFs, Excel spreadsheets, images, etc. Unlike a credit card number that can be revoked or cancelled if it is lost or stolen, patient data is unique and therefore a single patient data record is worth more than a credit card number. The challenge for data management organisations is to secure the data with extreme care to comply with legislation such as the HIPAA or the new EU-GDPR.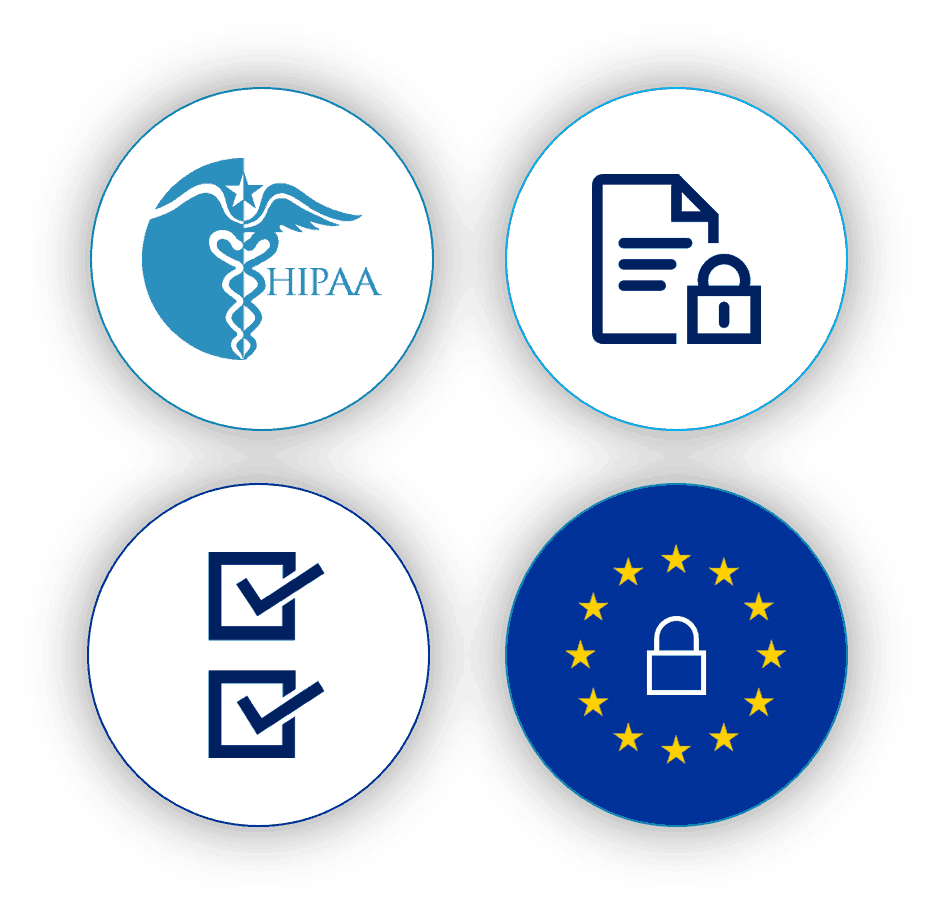 Comply with the EU-GDPR, HIPAA and sector regulations
The challenge for data management organisations is to secure the data with extreme care to comply with legislation such as the HIPAA or the new EU-GDPR. Audit access to patient data and rest assured that the data can only be accessed by approved users. Delete the data remotely if there are indications of data leaks or loss.
Protect yourself from internal and external threats
Employees, subcontractors and consultants must have access to sensitive and valuable data stored on file servers, document managers, etc. to do their jobs. However, if the data is not protected and under control it may fall into the hands of external agents due to errors, negligence or malicious intent. Nevertheless, in the last analysis the organisation that collected the data is liable for damages resulting from undue access.
Enhance your internal information security culture
Foster a culture of security in the company to prevent the loss of intellectual property or negligence in treatment of patient data of a personal nature. Given the heavy investment in R&D, protecting research data, personal data, etc., and raising the awareness of internal personnel about keeping the information under control is critical for the biopharmaceutical sector.
Types of biopharmaceutical information at risk
The following are examples of the information that should be protected and which poses a risk for organisations engaged in the healthcare or biopharmaceutical sector:
Document with patient data: Excel spreadsheets, images, PDFs etc. with data from patient files exchanged by various means between public and private health organisations.
Information on the results of tests of new pharmaceuticals products that must be exchanges internally between units or externally with third parties..
Internal documentation sent to the factory or that may even be passed on to third parties during the pharmaceutical manufacturing process.
Information related to any patentable innovation that could cost the organisation millions in terms of investment in research and loss of future revenues.
How can SealPath help to prevent leaks?
In the healthcare sector it is essential to achieve the best possible balance between security and convenience without interrupting business communication processes while ensuring that data is protected in compliance with regulations.
SealPath provides users with the option of protecting patient data during transit with a single action: a simple right-click on the document, Outlook plugin, etc.
It protects document repositories containing confidential data so that the information is not only protected when it is stored on the device but also when it is exported.
To comply with regulations the data are encrypted regardless of their location. There is full audit of all access to the protected data.
You can enable a collaborator to read a document but not to copy and paste, print or save the same without the protection.
Find out how other biopharmaceutical sector customers protect their sensitive information.