A ransomware attack is detected every 11 seconds. Don't leave your business unprotected
10% of data leaks worldwide are caused by ransomware attacks, which have multiplied by 10 in the last two years. Instead of encrypting it and asking for a ransom, attackers are now threatening to publish the stolen data. This includes financial information, but also any other data that can have an impact on the target company.
This strategy increases the chances that the victim will end up paying the ransom. Whether the ransom is paid or not, the attack still impacts the target organization, and the damage may include:
Damage to reputation and PR nightmares
The United States suffered 65,000 ransomware attacks in 2020 – or over seven an hour. This year, a multinational automotive companay was reportedly hacked with ransomware by the DoppelPaymer gang, demanding a $20 million ransom. Colonial Pipeline recently paid $4.4 million after a ransomware attack that forced the fuel supplier to halt operations, causing fuel shortages in five US states. These cases clearly show why vulnerability in front of malicious software should not be taken lightly.
*Source: Verizon DBIR, Cybersecurity Ventures
Of leaks are caused by ransomware;
There's been a increase in ransomware cases in the past two years;
Is the global cost associated with ransomware attacks in 2021;
An average of passes between each ransomware attack detected globally;
The bad news is that ransomware is an ever-evolving form of malware. The good news is that there are efficient solutions against it.
SealPath makes your data worthless for hackers.
No solution on the market today can completely protect you against a ransomware attack. Still, data access restriction avoids the chance of a successful attack, and… 
effective data encryption makes it impossible for hackers to make your data publicly available and prevents ransom demands.
Your data is encrypted in each of its states
With SealPath, your valuable data is protected at rest, in transit, and in use. Whether it's on a user's computer, on an on-premises server, or in the cloud, the data remains encrypted regardless of its state. Even if a ransomware attack targets you, the sensitive data stolen is worthless to the attacker who has extracted it and intends to make it public for profit.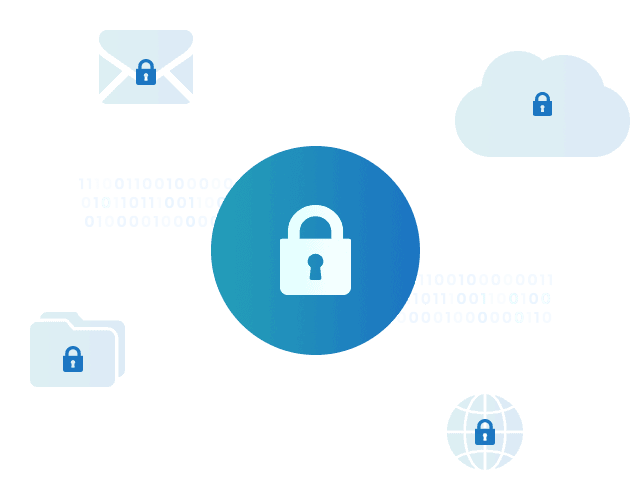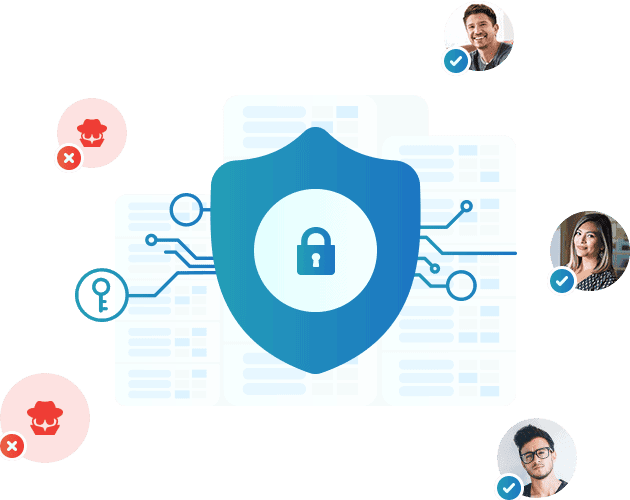 Only relevant users have access to sensitive data
SealPath employs granular access control on protected data. This grants differing access to particular data, limiting access to sensitive data only to those in your organization who need it to do their jobs. With this Zero Trust approach, SealPath enables organizations to follow the principle of least privilege access, which is especially useful against malware that uses privilege escalation, a tactic used by ransomware hackers to exploit security oversights and access data normally unavailable to certain users.
Comprehensive security solutions
Other functionalities such as the ability to virtually revoke remote access to documents, exhaustive auditing of accesses and monitoring of blocked access attempts, limitation of access by dates or by IPs / subnets increase the organization's control over the protected data and prevent external or internal attackers from accessing sensitive data.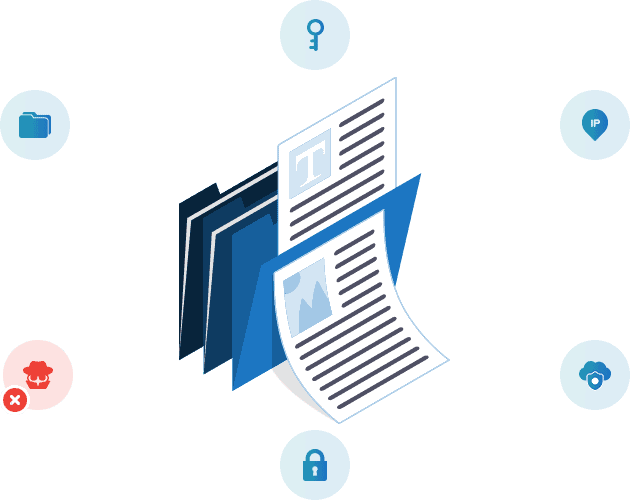 Companies of all sizes are targets of ransomware attacks. Don't wait until you're hacked and then have to deal with the fallout. Get started now with a simple encryption solution that prevents hacks and renders stolen data useless to ransomware hackers.
Find out how SealPath Anti-ransomware
Express Pack can protect your business
The anti-ransomware Express Pack provides you with:

Advice in identifying
sensitive data
Help to prioritize the folders or files that need protection without acquiring tools to identify sensitive information.

Security policies recommendations
Adhering to the Zero-Trust philosophy and principles of least-privilege access, it helps your organization implement data-centric protection policies.
SealPath Enterprise
SaaS solution
To protect and control your important data, regardless of location and state. This includes audit functionalities of access to protected files, control of access permissions (view, edit, print, etc.), revocation capabilities, access controls by date, IP, etc.
Fill in the form to learn more about our solution